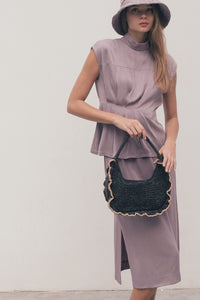 Trouvaille asymmetric blouse is a minimalism-centric design. The blouse sleeves is tailored in short form, with its diagonal armhole covering the shoulders, then harmoniously combined with its high neck. The blouse has asymmetric details to the right side, every fold is made by hand to form a sensual feminine silhouette. Style it with a tailored trousers for work and a jeans for casual occasions.
Details
Asymmetric pleats
Short sleeves
High neck
Materials
Silk

About the collection
Softness Optimism: From soft, sensual materials, we create artisanal pieces to elevate your autumn travel and work wardrobe. In a delightful interplay of silhouettes and colors, the intimate details unveil the nuances of the woman and impress with its timeless, refined aesthetic.
In Vietnam, we have express shipping for ready-to-ship products which takes 1-2 days and standard shipping which takes 3-5 days. In other countries, you will receive the ready-to-ship products within 3-7 working days for express shipping and within 8-15 days for standard shipping. For pre-order products that we have to make, it normally takes 15-20 days or more if the items you order have specific custom details.
In case your order has both ready-to-ship products and pre-order products, the goods will be delivered after we complete the preparation of all products. If you want to receive ready-to-ship products earlier, please place a separate order with the pre-order products.
Delivery time may change depending on the shipping term of each product, and may be longer at the area where promotion programs are taking place.
The following products cannot be returned and exchanged: Custom-made products, Initials products, Couture series, Sale off products.